New: E.C.Andersson Calypso II from Sweden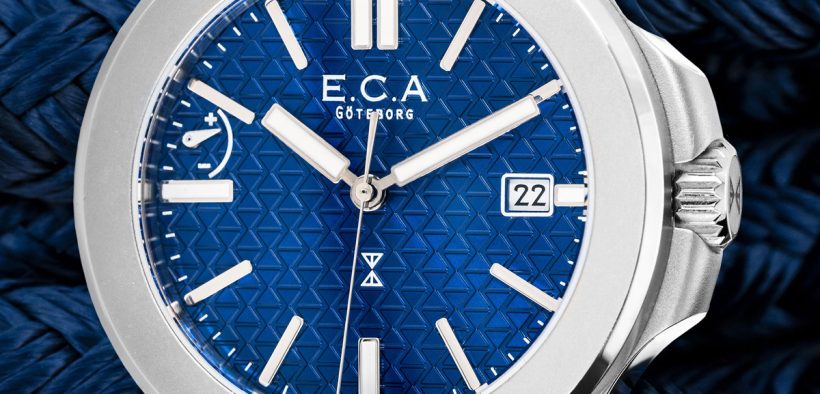 After taking a hiatus during the last two years of the pandemic, E.C.Andersson Watch Co is returns with a successor to their diver watch with a new model. Introducing the Calypso II.
Press Release material with commentary in italics.
E.C.Andersson Calypso II – a new model from Sweden
Commentary
The watch is inspired by famous ocean explorer Jacques Costeau, and is named after RV Calypso, a former British Royal Navy minesweeper converted into a research vessel for the oceanographic research for the use by Cousteau. The British millionaire and former Member of Parliament (MP), Thomas Loel Guinness bought Calypso in July 1950. He leased her to Cousteau for a symbolic one franc a year. He had two conditions: that Cousteau never ask him for money and that he never reveal his identity, which only came out after Cousteau's death. Cousteau restructured and transformed the ship into an expedition vessel and support base for diving, filming and oceanographic research. She was severely damaged in 1996 and was planned to undergo a complete refurbishment in 2009–2011. The ship is named after the Greek mythological figure Calypso.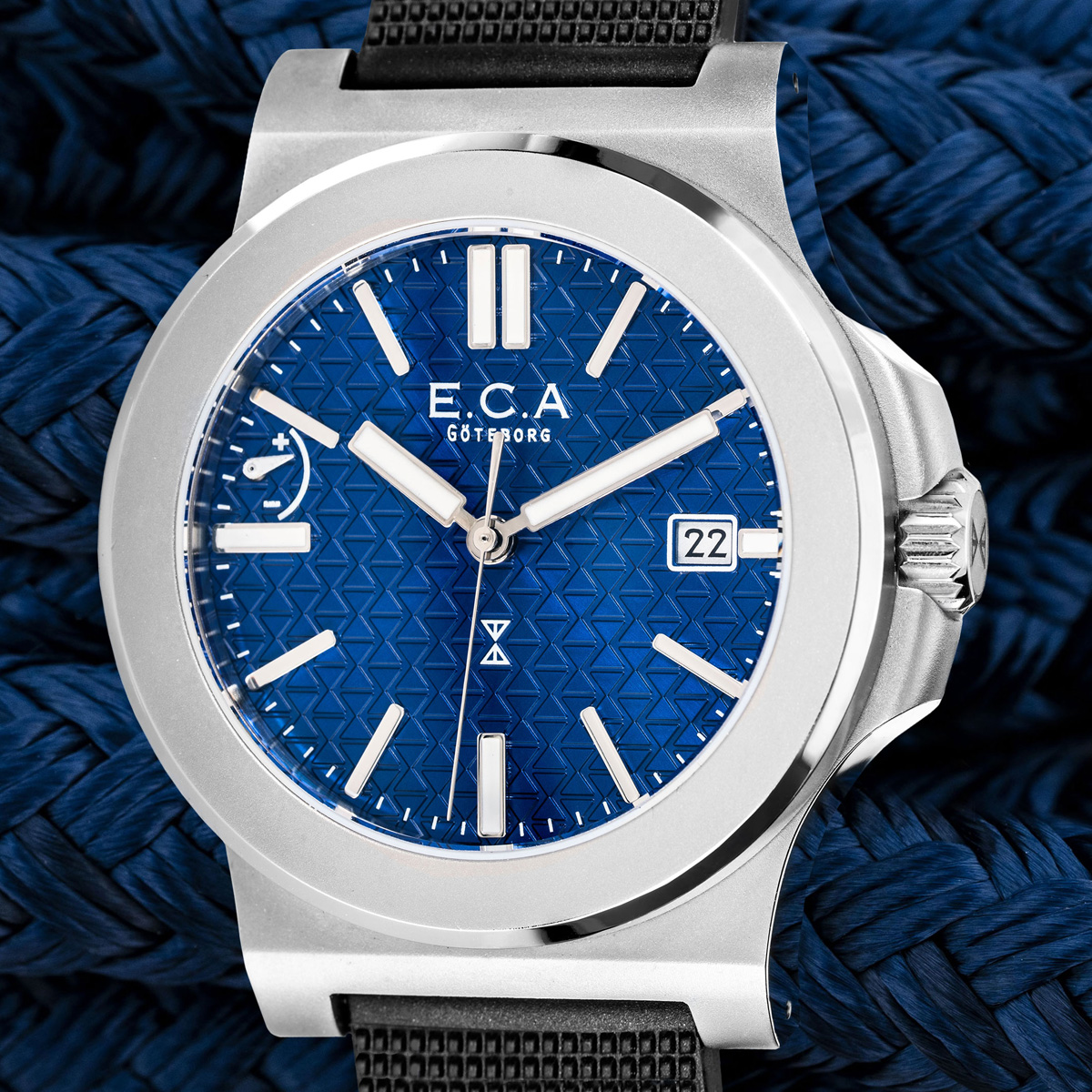 The brand began in 2016 when it launched a robust sports watch called the North Sea, which was followed by the North Sea II. Both the watches feature a recognisable cushion shaped case. The movement was the Cal.ECANE01, and is based on the Seiko NE57. The Calypso II is fitted with their M9000 movement, which is claimed to be manufactured in-house. We are not able to verify this claim. Their website shows the details they go into to make the rotor, from a process which looks like enamel being applied to the relief engravings, and then polished to show only the blue enamel.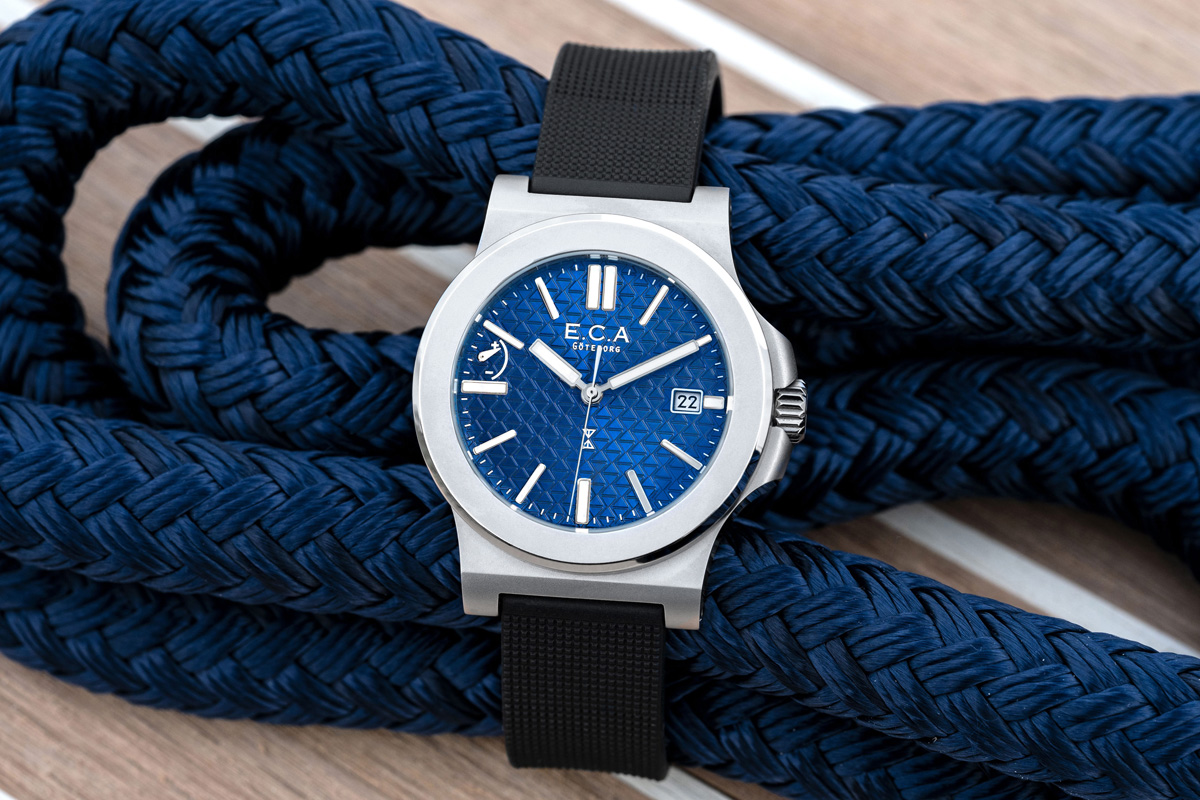 Legibility looks very good, as the watch is designed to be very simple. Scandinavian design principles show clearly on the design, with simple, clean lines which look good. It sports a rather beautiful textured blue dial, with sporty look. While E.C.Andersson also does say how the dial is made, we hazard a guess that the pattern is stamped on the dial. Nonetheless, it looks magnificent. The case is finished in a high polish in juxtaposition with sand blasted matte finish. The finish from the photographs we received looks well done. The high polished bezel chamfers as well as the matte finish case flat surfaces. The watch is not ISO certified for diving, as it does not have a uni-directional rotating bezel. The case and bezel shape bears a bit of resemblance to many of the ultra popular steel sports watch, and indeed the water resistance rating of the Calypso II is also a very similar 120m.
Pricing is ultimately very fair at USD 640 for the limited edition series. However, the catch is also that for every 20 watches ordered, the next batch will be at a higher price. E.C.Andersson does not state what this increase will be.
Release information
The Calypso II is designed to be durable and versatile. The screw-down crown, 120m water resistance, sapphire crystal, and regulated automatic movement makes this piece perfectly suited for an active lifestyle. It's limited to 140 pieces worldwide, only available in a "Pre-Order Special" on ecandersson.com
Calypso II is a sophisticated and equally versatile sports watch that fits perfectly into E.C.Andersson's catalog. All of the company's watches are made with the demanding activity of ocean sailing in mind, meaning the watches will have to endure harsh temperatures, salty waters and fluctuating light conditions.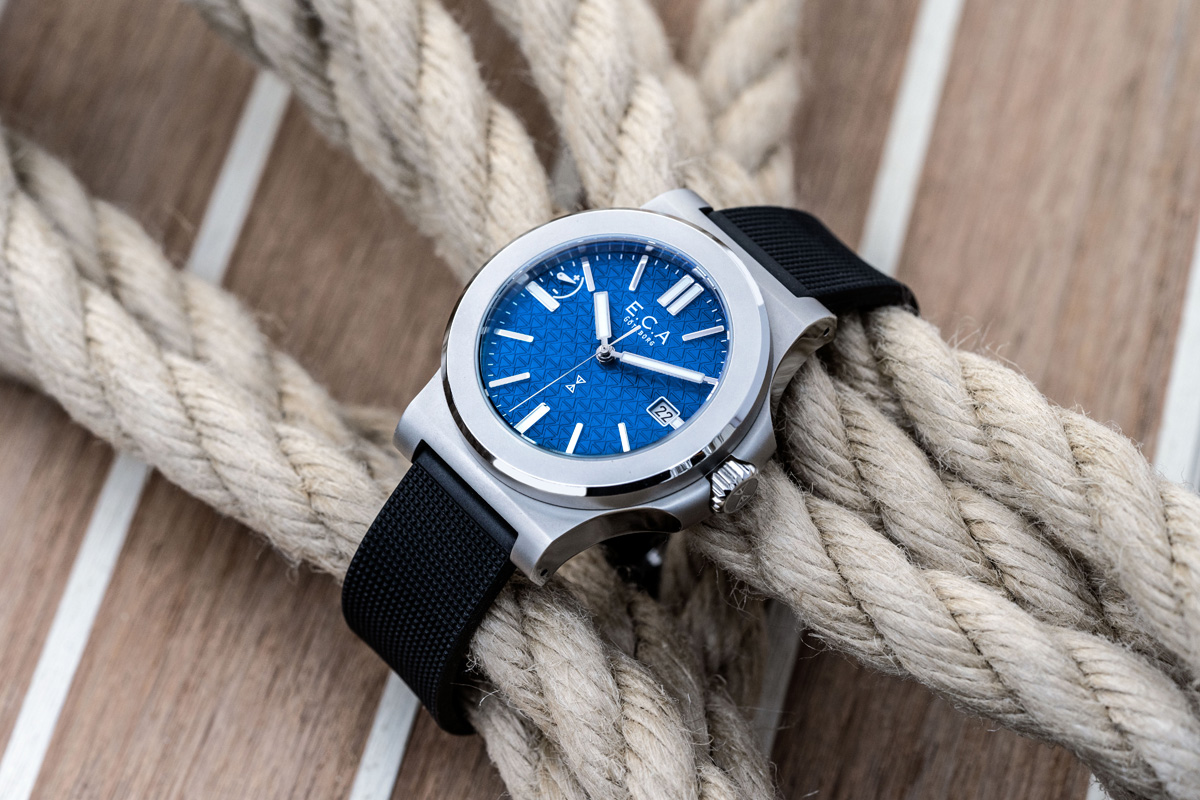 As always with E.C.A sports watches, its DNA comes to life in the use of clear cut lines, solid construction and a mixture of polished and sandblasted finishes. Not to mention the use of a Power Reserve indicator, which is cleverly placed between the 9' and 10' hour markers to preserve the symmetry of the dial.
The ocean-blue dial features a 3D textured "Enslinje" pattern: A collection of symbols used in coastal navigation, which suitably resembles hourglasses and serve as the base of E.C.Andersson's logotype. Above it, we're presented with applied indices that are mirror polished all the way around and filled with SuperLuminova on the cardinal-markers 12, 3, 6 and 9. A framed date wheel is visible at 3'.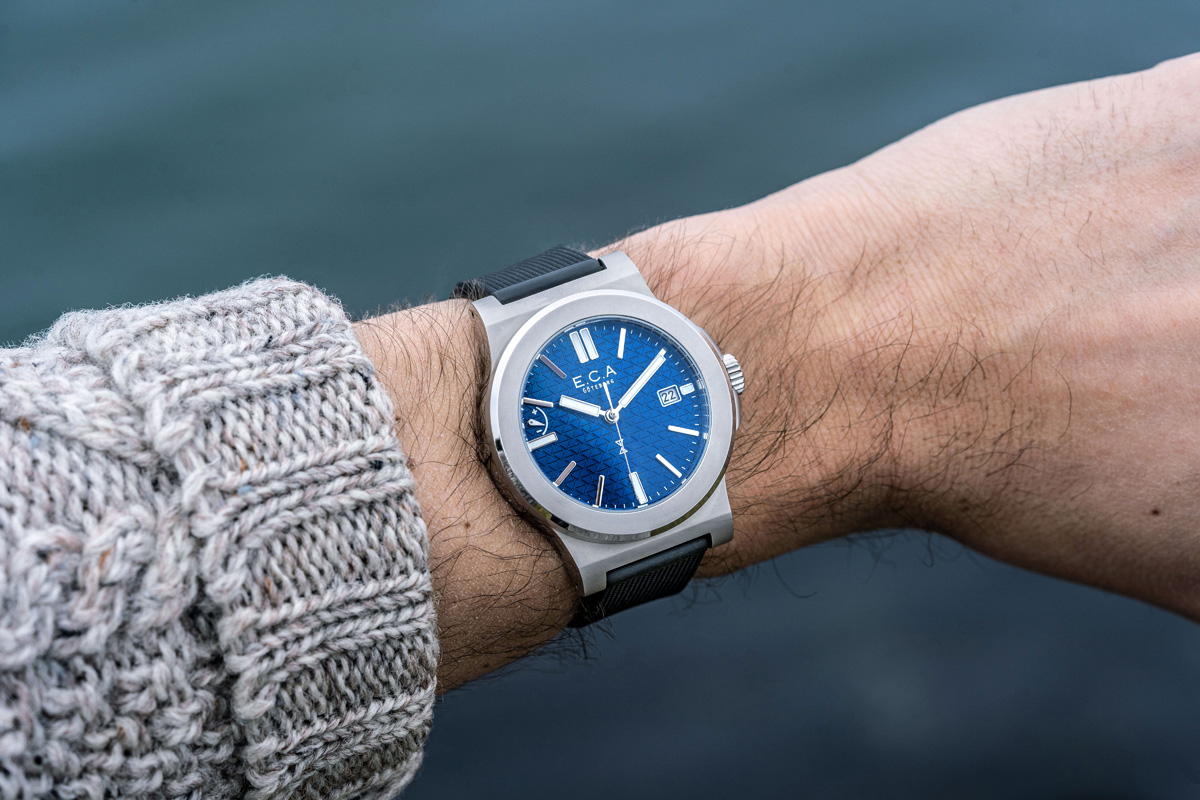 The signature lug design of 18mm inside width, leaves a minimal gap in-between strap and watch-head, which makes for an integrated look no matter what strap you decide to attach to the Calypso II. The lugs are broad, giving the 39mm watch case a subtle masculine appearance and rounded to ensure maximum comfort on the wrist.
Beating inside is an automatic movement based on the M9000-series, a reliable machine that E.C.Andersson embraces for its superior durability compared to its competitors. It features the Parashock system, which absorbs external forces and preserves mechanical integrity during demanding activities. In addition, the people at E.C.A personally regulate each movement to ensure accurate timekeeping of every individual watch before shipping.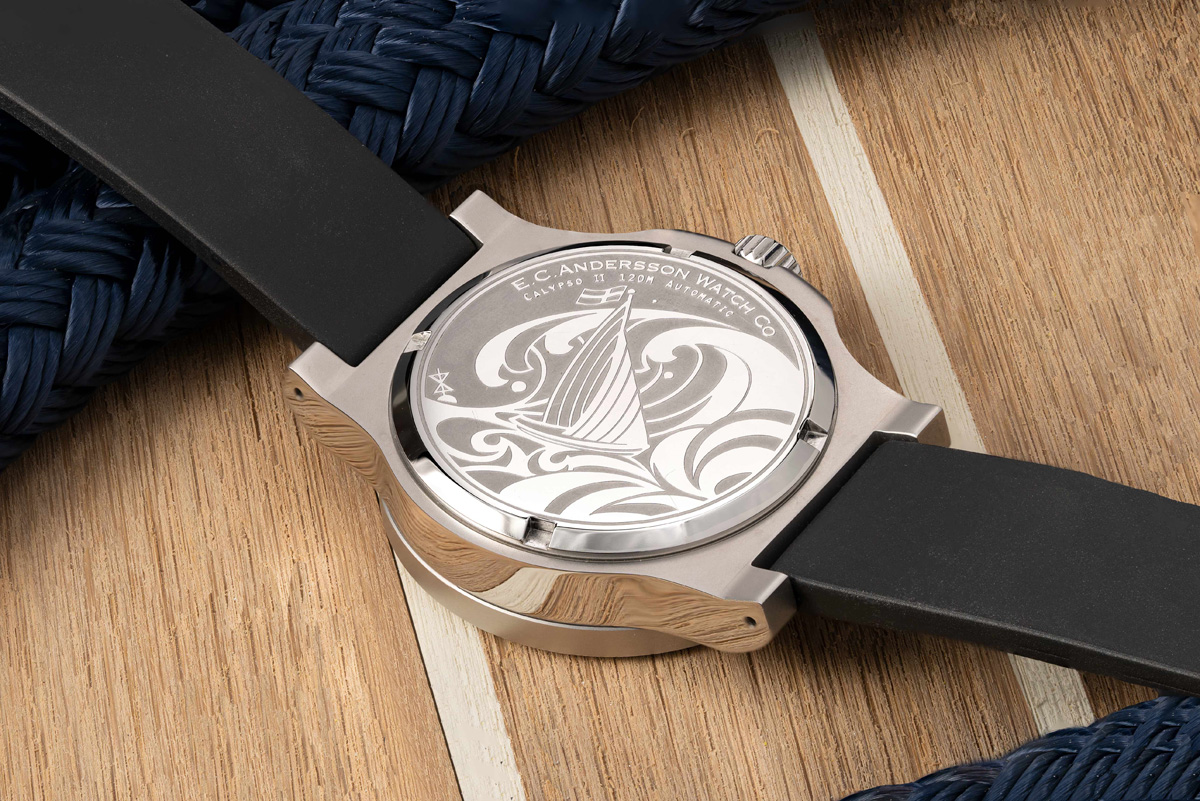 The Calypso II is limited to 140 pieces worldwide and is expected to sell out during pre-orders. If ordering early, the watch can be yours for 640 USD, a price that increases per each 20th order until the listing price is reached. Order now to become one of the owners, at www.ecandersson.com