The Dial as Canvas, Revisited: Five Timepieces from Artistic Collaborations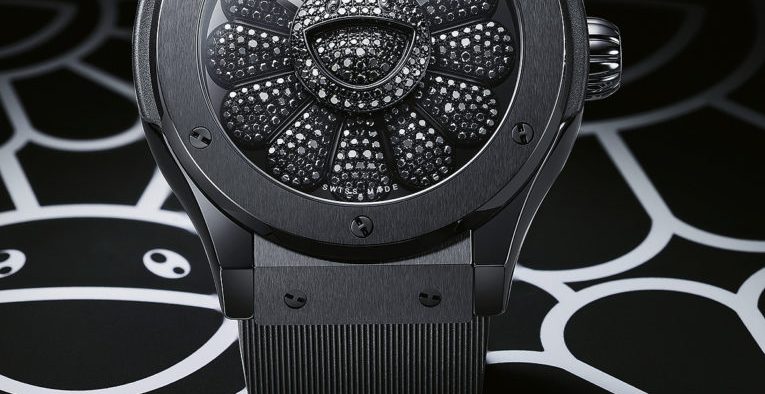 When watch companies collaborate with artists and designers, expect to see exciting results: we showcased six of them a few years back. As this year's Art Basel Miami event wraps up, we explore other international celebrities and young cutting-edge artists that are enriching the watch world.
In 2021, Hublot began a collaboration with a true star of the art world. Takashi Murakami, born in 1962, is akin to a grand master of Japanese Pop Art — and a very special one at that. From the beginning, Murakami has flirted and played with the manga aesthetic. Many of his works of art have an extremely playful appeal — like the grinning sunflower motif, which has become his internationally recognizable trademark. Countless Murakami images and sculptures feature the colorful flower with the gaping grin. It has decorated skateboards, streetwear, face masks, and even Louis Vuitton bags over the past two decades. The flower reveals its dark side in a music video Murakami directed for Billie Eilish — that shows the fine line between a grin and a scream for this flower.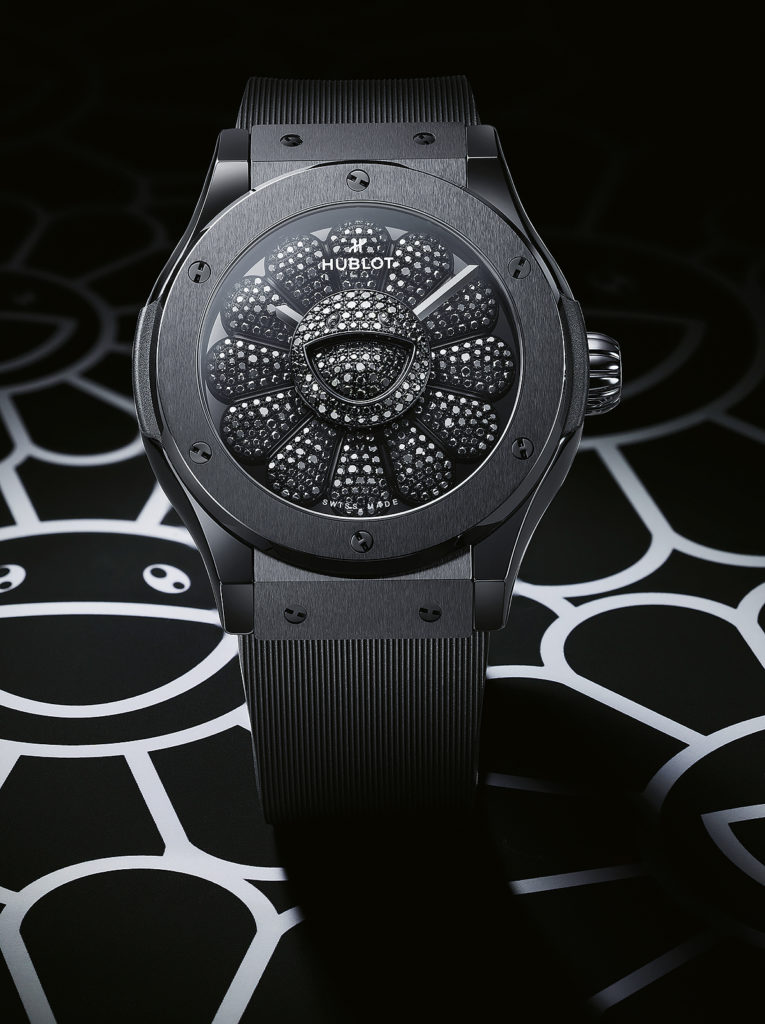 This image now decorates a Hublot watch. Just as cheerful as before, but there is no pop of color here — it's all black. The Classic Fusion Takashi Murakami All Black glitters with an array of black diamonds. To be exact, 107 diamonds decorate the face of the flower and 456 glitter on its petals. A ball bearing assembly allows it to turn on its own axis. Hublot has released the black Takashi Murakami watch in a 45-mm black ceramic case with automatic Caliber MHUB 1214 Unico in a limited edition of 200 pieces ($27,300).
Seiko has teamed up with a Japanese artist with a striking, cartoon-like signature look. The Seiko 5 Sports Auto Moai Limited Edition was designed by an artist who puts anonymity in the center of their creations. Auto Moai withdraws completely behind their work, not revealing age or gender, and speaking to the public solely through images of faceless people. Auto Moai, whose wave of success is currently spreading throughout Asia, has created a unique work of art for Seiko with intertwined, faceless figures, which can be seen on the leather strap and bezel of the 42.5-mm stainless-steel watch with its titanium-carbide coating. The watch is powered by automatic Caliber 4R36. The dial depicts one of the faceless portraits of people that are typical for Auto Moai. The Seiko 5 Sports Auto Moai is limited to 1,500 white and 300 black pieces (each priced at $595).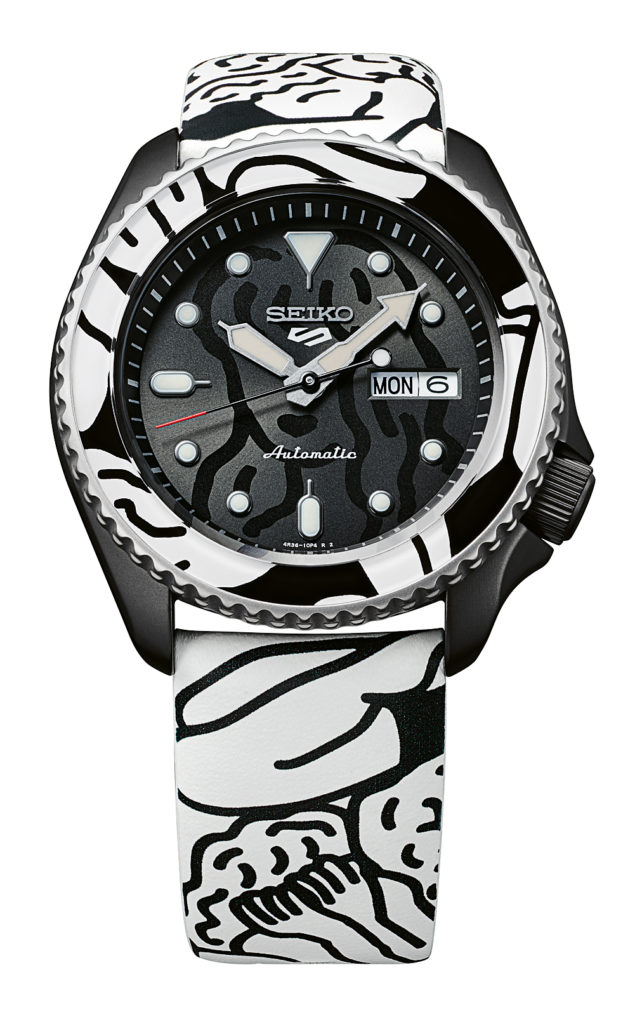 Subversion, Dynamism, Irony
The French artist seconde/seconde/ — whose name is Romanic André – dedicates himself completely to a subversive kind of watch art. He often substitutes the hands of iconic watches with his own creations — carefully created hands in the shape of everyday objects, which are often rendered in a pixelated form, like those seen in old computer games. H. Moser & Cie. has collaborated with Romanic André in designing the 20-piece, limited edition Endeavour Centre Seconds Concept X seconde/seconde/. A typical Moser watch in stainless steel, measuring 40 mm with an automatic HMC 200 movement and a "Funky Blue" fumé dial that shows no brand name at all. The hour hand takes the shape of a pixelated eraser, which symbolically "erases the brand." Years ago, H. Moser & Cie. began creating individual watches without a logo — a statement suggesting that luxury needs no prestigious brand names. The eraser image by seconde/seconde/ presents this notion with a clever wink with its 20-piece, limited edition Concept Watch (listed at $21,900).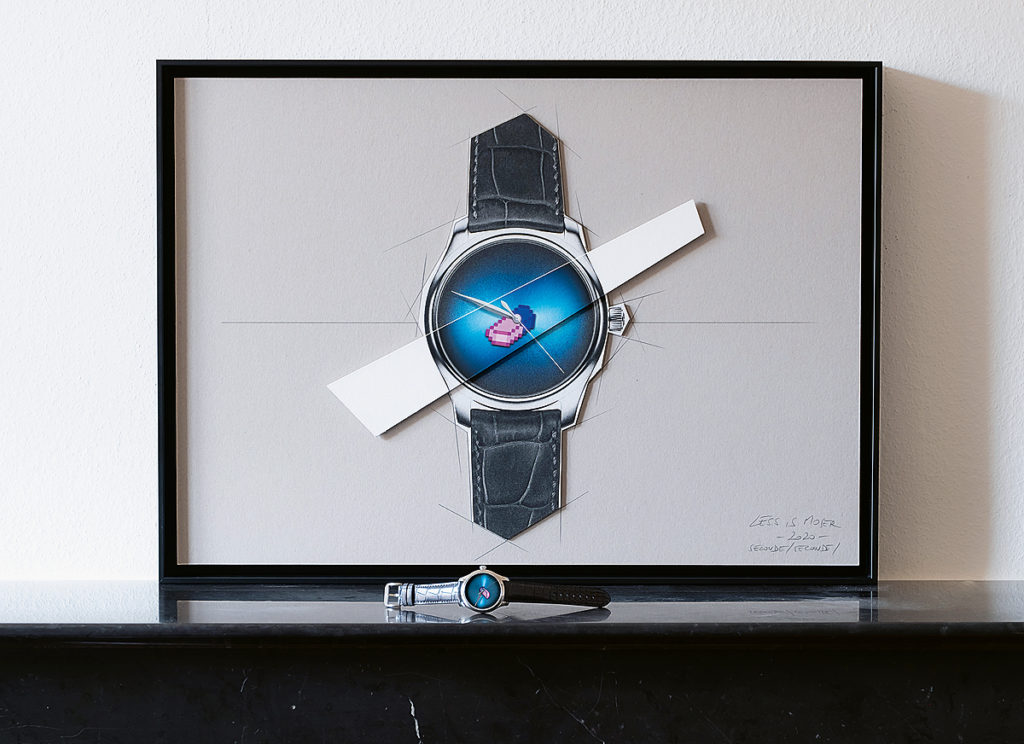 Zenith and the Spanish-Argentinian artist Felipe Pantone worked together intensively for one year on the Zenith Defy El Primero 21 Felipe Pantone Edition. Dynamically structured color gradients are the trademark of the 35-year-old Pantone, often appearing in the shape of a lightning bolt, which he applies to entire walls, or to screens that flicker and shimmer.
Implementing his colorful interventions into the dimensions and the material world of a wristwatch was no small undertaking. Zenith developed a three-dimensional PVD-coating that could be used to apply Pantone's color gradients to the lightning-bolt hands, markers, bridges and even one of the chronograph rings. Engraving and lacquer techniques were used to transfer the fine moiré effects to the components of the 44-mm ceramic watch in black-and-white, which Pantone often uses as a clear graphic counterpoint to color. Zenith describes this 100-piece, limited edition chronograph "kinetic art" — with colorful elements set in motion by the El Primero automatic 9004 caliber ($19,100).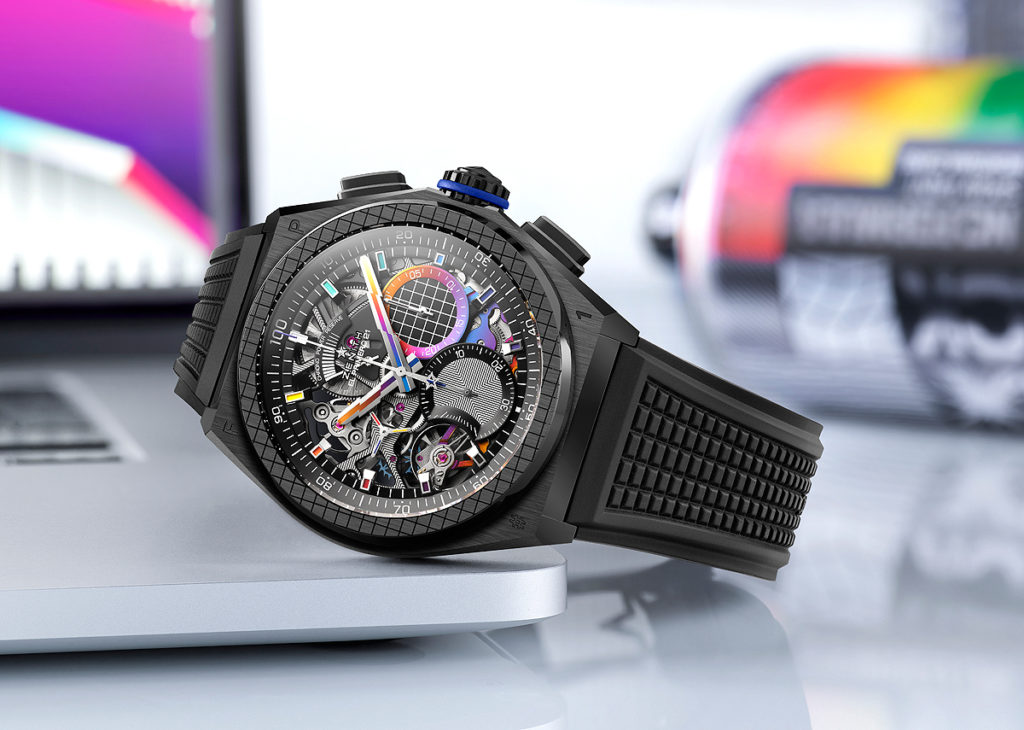 A Work of Art for Table Or Wall
The young French watch brand Trilobe began a collaboration with one of the most famous French artists alive today. The conceptual artist Daniel Buren, born in 1938, who has been setting standards for decades with his distinctive striped structures, for example, the design of the gardens of the Palais Royal in Paris, developed the "La Réciproque" table or wall clock together with Trilobe for the Only Watch charity auction. Buren and Trilobe founder Gautier Massonneau developed the bold, radically geometric black, white and red clock, which is the size of an album cover and whose two sides are both surprising and distinctive.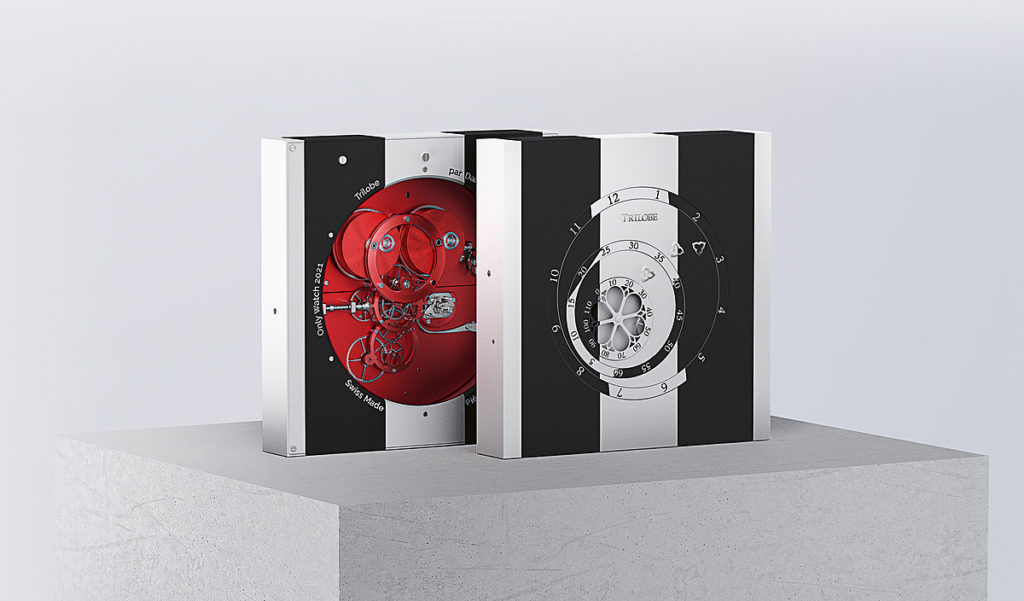 The front is presented with Buren's signature black-and-white stripes and Trilobe's typical no-hands time display consisting of three rings. At 2:13 a.m., the time Buren and Massonneau met for the first time, the stripes on the rings align with their environment and then shift as time passes until they line up again 12 hours later. "The clock can be hung on the wall like any work of art," says Massonneau. But even more of the clock is visible when it stands on a table. The back reveals the scaled-up, table-clock size Trilobe "X-centric" caliber with a brilliant red movement that is both a mechanical and a visual treat. Its elementary form and color clearly contrast with its surroundings and fit perfectly with Buren's aesthetic concept. Unlike Takashi Murakami, Buren rarely collaborates with outside companies. At first, he met the idea of collaborating with Trilobe with skepticism — until the philosophical concept of the brand, whose idiosyncratic time displays offer a counterweight to the ordinary, began to intrigue him. It's a bit like art — inspiring people to shift their perspective.
A version of this article appears in the WatchTime Design Special 2022, on sale now.