Desert Commando: Hands-On with the Bremont MB Savanna Edition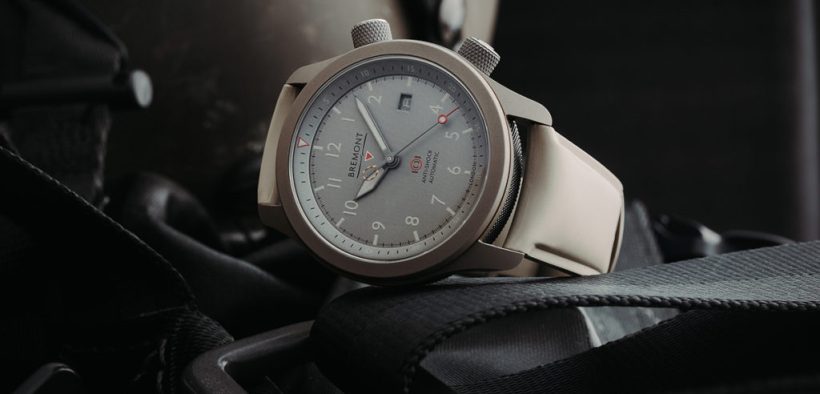 Bremont makes watches that not only evoke military history but also are engineered for use in military-grade conditions. We recently went hands- on with perhaps the ultimate expression of that ethos, the titanium-cased MB Savanna Edition.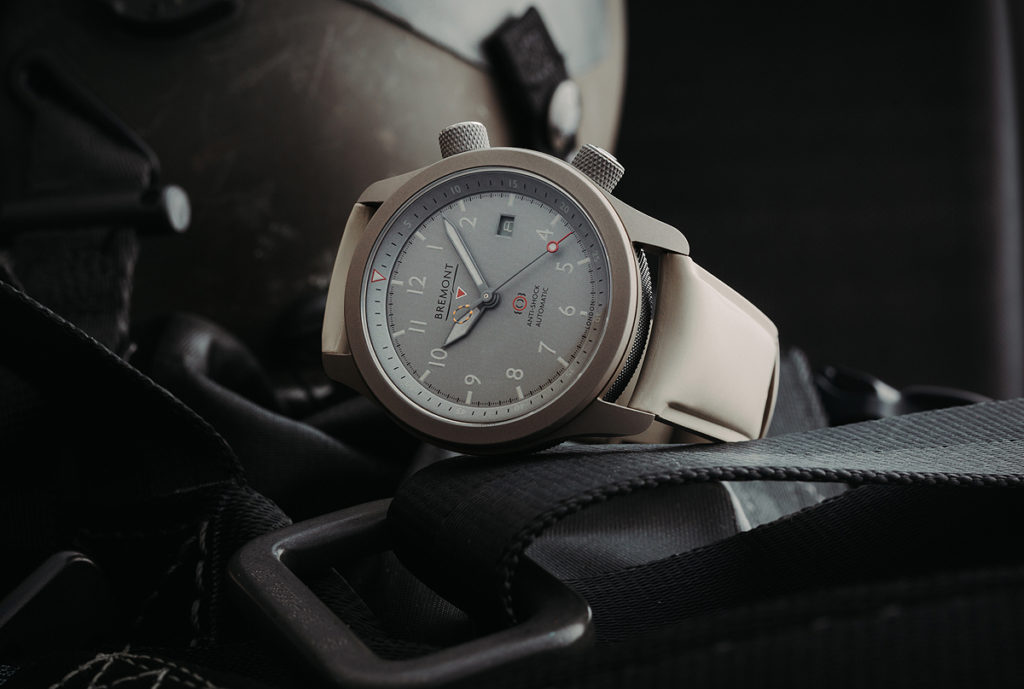 "For a pilot," British watchmaker Bremont reminds us, "weight means everything." With this axiom as a guide, the London-based watchmaker known for its rugged, military-influenced aviation watches has finally given its flyboy fanbase a version of the MB — its most tortuously tested watch and one most prized by military pilots — in a tough but lightweight titanium case.
For those unaware, the "MB" in the watch's name stands for "Martin Baker," a British aviation company founded in 1929 that today supplies more than 70 percent of the Western world's air forces with fighter ejection-seat technology. As one of the first partners of the fledgling Bre- mont Watch Company, Martin Baker collaborated with its founders, former RAF reserve pi- lots Nick and Giles English, to produce the first MB watch in 2009. It was notable for the un- precedented battery of tests it endured before being released, including but not limited to being strapped to the wrist of a mannequin in an actual ejection-seat test. The MB Savanna, like every watch in the MB series spawned from that first model, undergoes the same gauntlet but adds several other modern upgrades as well.
As alluded to above, the MB Savanna is the first watch in the series with a case made of grade 5 titanium, a material whose attributes, both practical and aesthetic, are well known to watch aficionados by now: lighter yet harder than steel, heat- and corrosion-resistant, hypoallergenic. The 43-mm case, formed in the tripartite "Trip- Tick" construction familiar to fans of Bremont, has a smooth, sandy-textured anthracite color and is finished in what the firm calls a "tactical" anti-reflective coating. The case's surface is sub- tly gritty to the touch and almost entirely matte in its finishing, with no polished elements in sight, even in the facets. The domed sapphire crystal is the only surface on the watch that catches light, despite its antireflective coating, and the occasional shine can detract in some instances from the watch's appealing "stealth" look.
The middle layer of the case, which is water resistant to 100 meters (good to know in case your ejection seat lands you in a lake), features a knurled surface that is inspired by components on a Martin Baker ejection seat. The crowns, one at 2 o'clock, the other at 4 o'clock, each have a different function and appropriately each display a different visual element on their top sur- face. The former, which is pulled out to set the hands and pushed in to wind the watch, has the Bremont propeller emblem; the latter, which operates the rotation of the inner "Roto-Click" bezel, a practical timing accessory patented by Bremont, has a concentric-rings "bullseye" look. Their sides share the same knurled texture applied to the middle layer of the case, a motif both visually appealing and a tactile treat for fingers grasping the crown.
The pale, desert-like hue of the titanium case is echoed on the dial, making for a color palette evocative of military camouflage tones used in deserts and similar climates, particularly those of the parachutes used by pilots ejecting from cockpits. Hence the model name "Savanna," as in African Savanna, which Bremont says was at the suggestion of Andrew Martin, VP of Business Development & Marketing at Martin Baker Air- craft Co. Ltd., grandson of one of the founders. The dial also hosts the other established emblems of the MB collection, including the distinctive hands and numerals and the distinctive counterweight on the seconds hand.
Bordering the dial is a rotating flange in a similar color tone, inscribed with a minutes scale consisting of black tick marks, tone-on-tone colored numerals at the five-minute markers, and red-outlined white triangle at the 12 o'clock position. The use of the monochromatic numerals is another odd choice in the service of legibility; they often get lost in bright lighting and unlike the hour and minute hands, there appears to be no luminous material applied to them. The inner flange, however, is noteworthy for its utility: in Bremont's "Roto-Click" system, the crown at 4 o'clock rotates it in both directions in 60 individual clicks. A counterclockwise twist sends the ring ratcheting forward; a clockwise one, vice versa. This is useful if you want to align the 12 o'clock triangle with the minute hand to time an interval.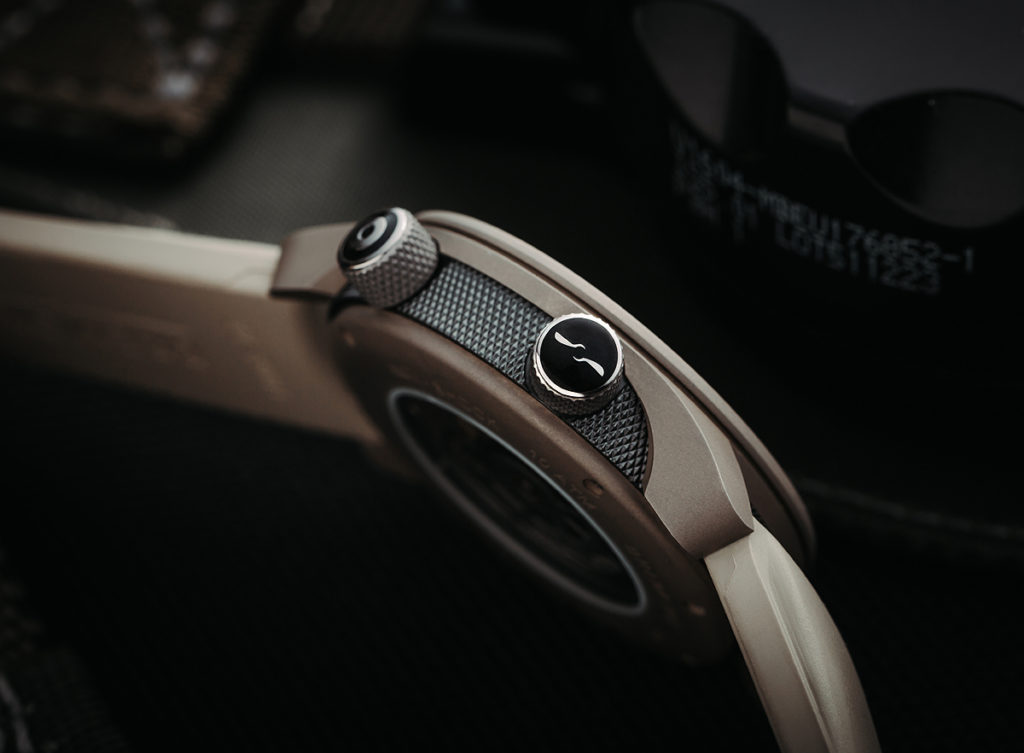 Each hour is marked by a sans-serif numeral accompanied by a bar index, with the exception of the 3 o'clock position, where said index accompanies a small, square date window. This date display is itself worthy of mention, with its gently faceted frame and its white numeral on a gray background, ensuring that this small complication neither disrupts the monochromatic austerity of the design nor clashes for attention with the other well-placed dial elements that do.
What are those elements? One of them is another inverted triangle, this one in bright red, stationed centrally underneath the printed Bre- mont logo below 12 o'clock. Another is the red ring and tip at the pointer end of the seconds hand, with a dot of lume in its center, which skips around the dial to reveal at a glance that the watch is running. Yet another, at the opposite end of the seconds hand, is a yellow-striped loop counterweight whose inspiration is the pull-handle of an aircraft's ejection seat. Another red circle pops out above the "ANTI SHOCK AUTOMATIC" inscription near 6 o'clock.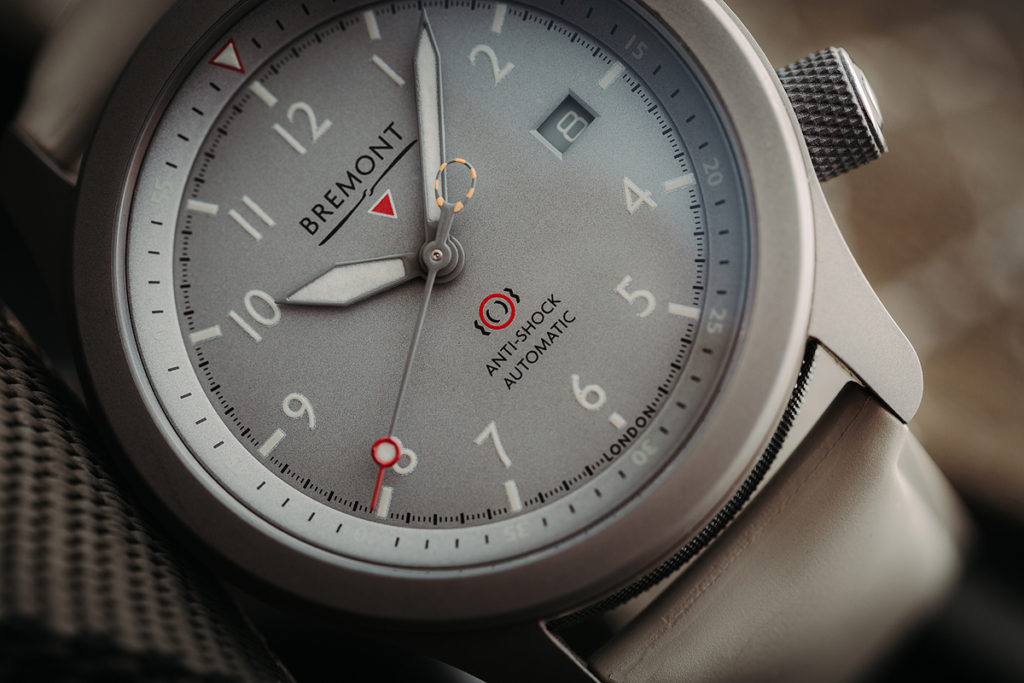 The caseback, secured by six titanium screws with polished heads, has a sapphire pane to showcase the movement, an ETA-based caliber that Bremont dubs BE-36AE. Its rotor is another updated design element, skeletonized and boasting an advanced ruthenium treatment. As in previous MB watches, the automatic movement is secured by a patented anti-shock mounting system inside the case, which renders it extremely resistant to shocks and impacts. It beats at 28,800 vph, stores a 38-hour power reserve, and like all movements installed in Bremont's core watches is chronometer-certified for accuracy by the Swiss testing agency COSC. These chronometer tests are in addition to the extensive regimen that the watch undergoes to earn its wings, so to speak, as a member of the rugged MB family, which include the aforementioned live ejection-seat tests as well as exposure to salt fog and extreme vibrations, temperatures, and altitudes.
The monochromatic look of the Bremont MB Savanna continues on the rubber strap, executed in the same khaki-like color as the case and chosen for its durability and versatility in all types of conditions. The model that I reviewed was quite new — likely one of the first shipped to the U.S. — and its strap was just a tad stiff at first, but after a week of wearing it improved in suppleness and comfort, caressing the wrist and — important in the dog days of summer during which I wore it — keeping it cool. The titanium prong buckle has a lightly etched Bremont logo engraving. The strap offers two sturdy rubber keepers and eight holes for the buckle's tongue, and most wearers should find it easy to procure a comfortable setting for the wrist.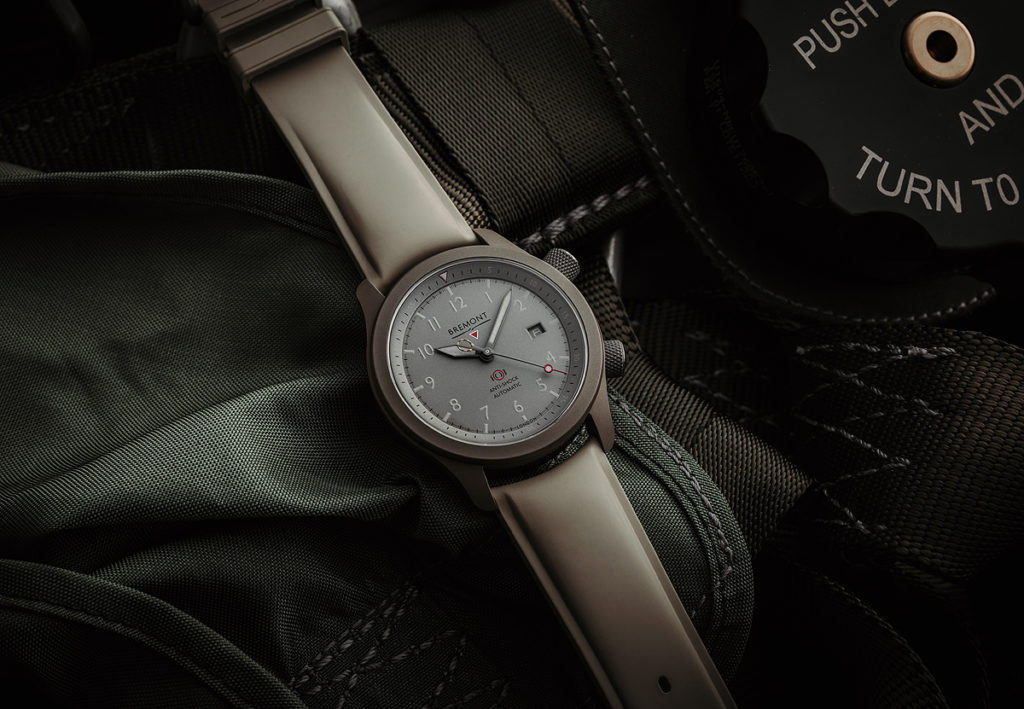 Bremont co-founder Nick English refers to the watch, which was manufactured, finished, and thoroughly tested at Bremont's watchmaking facility in Henley-on-Thames in the England, as "an eye-catching piece of military candy and a fitting tribute to arguably the most successful pilot's watch in the market used extensively by real military squadrons." It also makes a convincing case as a handsome and versatile wrist accessory whether you're heading to a cockpit or a cocktail bar.
SPECS:
Manufacturer: Bremont Watch Company, The Wing, Reading Road, Henley-on- Thames, Oxfordshire, RG9 4GE, United Kingdom
Reference number: MB Savanna
Functions: Hours, minutes, seconds, date dis- play at 3 o'clock
Movement: Bremont Caliber BE-36AE automatic, COSC-certified chronometer, 26 jewels, Glucydur balance, Anachron balance spring, frequency = 28,800 vph (4Hz), power reserve = 38-hours, increased shock resistance from modified automatic winding bridge, Bremont skeletonized rotor with stepped windows and branding.
Case: Grade 5 titanium case, matte-finis- hed in a protective, tactical coating; "Trip-Tick" case construction with anthracite-colored, knurled aluminum barrel; protective patented anti- shock movement mount; patented inner bidirectional "Roto-Click" bezel, operated by crown at 4 o'clock; grade 5 titanium caseback secured by six screws with sapphire exhibition window, water resistant to 100 meters (10 ATM)
Dial: Sand-colored metal dial and date disk, sand-colored Grade X1 Super- LumiNova-coated indexes and hands
Bracelet and clasp: "Savanna" rubber strap with prong buckle
Dimensions: Diameter = 43 mm, lug width = 22 mm
Price: $5,795
A version of this article first appeared in the November-December 2021 issue of WatchTime.