Anything But Ordinary: 8 Watches Made from Extraordinary Materials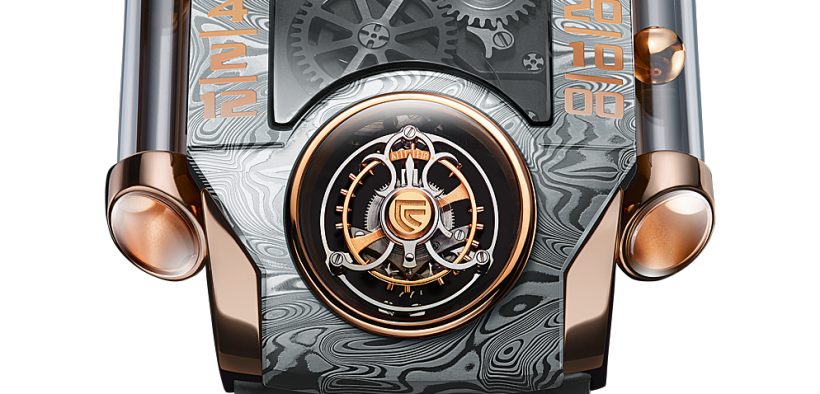 Is gold too precious and stainless steel too commonplace for you? Several watch manufacturers are experimenting with case materials that add even greater excitement to unconventional timepieces. From the WatchTime archives, here are eight timepieces that incorporate these out-of-the-ordinary materials.
DAMASCENE STEEL: Christophe Claret X-Trem 1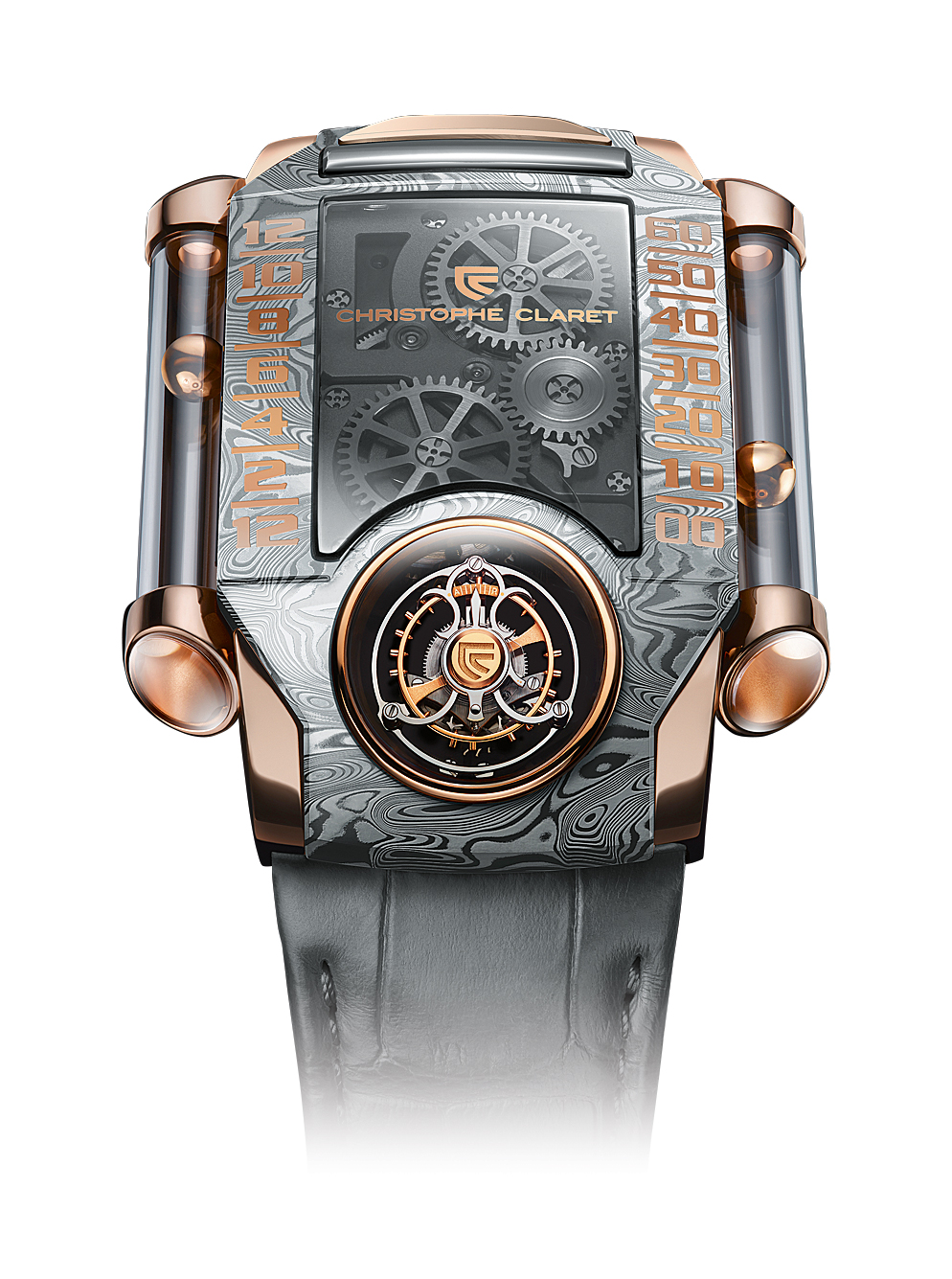 Damascene steel is seldom used in the watch industry because fabricating this material is a very complex and laborious undertaking. To create damascene steel, several different types of steel are placed one on top of the other and then forge welded. After the forging, the piece of steel is halved and the two parts are again placed one atop the other. This so-called "folding" yields damascene steel, which unites the properties of the various steels used in its fabrication. Another special feature is the attractive grained pattern that appears after surface etching. Christophe Claret uses damascene steel in combination with rose gold for the X-Trem 1. This watch is distinguished by its unconventional time display, which uses small hollow steel balls moved by two magnets to show the hours and minutes.
BREITLIGHT: Breitling Avenger Hurricane Military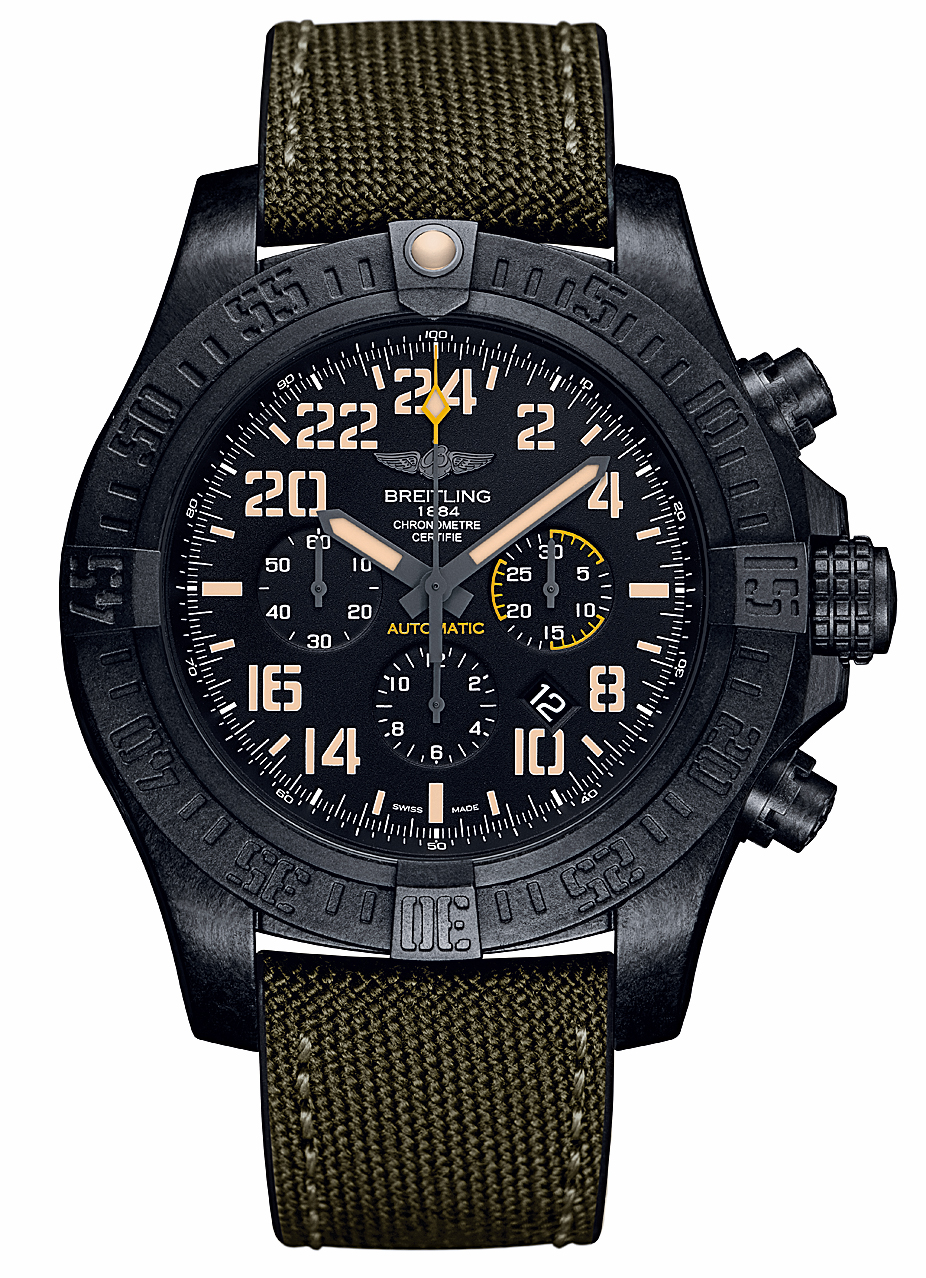 Anyone who wears the Avenger Hurricane Military will notice that Breitlight feels warmer than metal, has an interesting marbled grain,and is noticeably lighter in weight than stainless steel. Breitling says that the substance is 3.3 times lighter than titanium, yet also harder than that metal. And the innovative material is 5.8 times lighter than steel, which explains why the 50-mm Avenger Hurricane Military weighs only about 69 grams, not including the weight of its strap. The polymer fiber is also scratch resistant. Breitling introduced this new case material in 2016 with the Avenger Hurricane, which is also 50 mm in diameter. The Avenger Hurricane 45 was recently equipped with a Breitlight case, too.
COLORED SAPPHIRE: Hublot Big Bang Unico Sapphire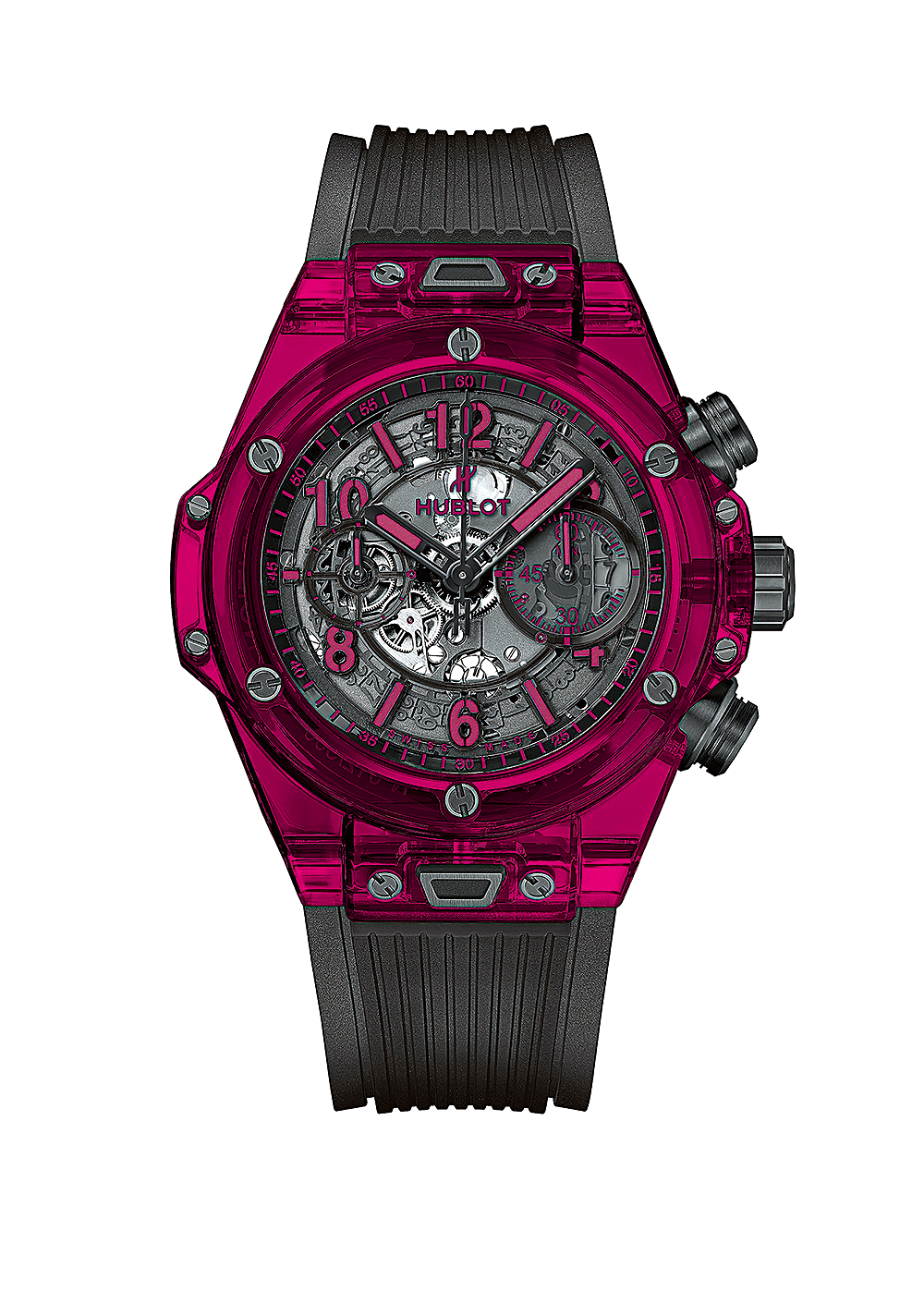 Hublot is famous for its watches that use unconventional materials, such as linen, osmium or carbon. In 2016,this Swiss manufacture unveiled a model made entirely of artificial sapphire. The sapphire became colorful one year later, specifically blue or red. And despite the color, the Big Bang Unico Sapphire hasn't lost its translucent appearance. Although colored sapphire crystal has been available since the beginning of the 20th century, synthesizing it in precisely the same hue is very difficult. To accomplish this, Hublot combines aluminum oxide – the raw material of sapphire – with either chrome for blue sapphire or iron for red sapphire during the manufacturing process. The properties of the sapphire – high resistance to scratches, extreme hardness and transparency – do not change. These characteristics also make the manufacturing process quite expensive. The middle part of the case, the back and the bezel are each cut from a solid block of sapphire and then abraded into their desired shapes. This requires special tools, which wear out quickly and must be replaced frequently.
VANTABLACK: MCT The Sequential One–S110 Evo Vantablack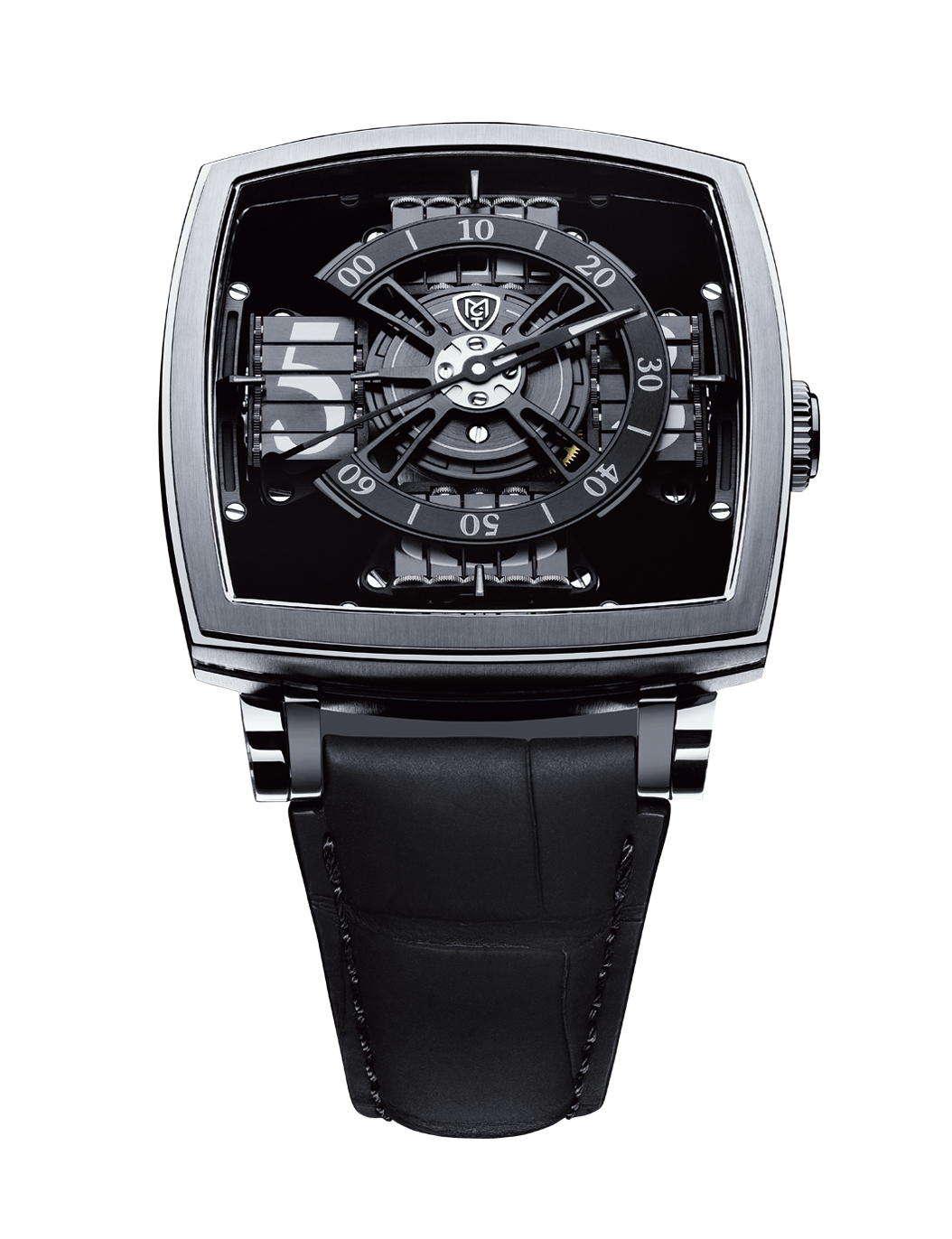 "Vantablack"is a combination of the acronym for "Vertically Aligned NanoTubeArray"and the suffix "black." A plate of Vantablack, with a thickness of just 1 mm, absorbs 99 percent of incident light and accordingly looks inky black. The Guinness World Records book lauded this material as "the blackest of all man-made substances" until 2015, when Vantablack was surpassed by "dark chameleon dimers," a material that achieves the same light absorption as Vantablack with a thickness of just one micrometer. Neither of these materials had been previously used in the watch industry. One of the first watch manufacturers to employ these is MCT (Manufacture Contemporaine du Temps), which uses Vantablack for the dial of The Sequential One – S110 Evo Vantablack. In order to be able to use this material, the brand entered into an agreement with artist Anish Kapoor, who has secured the exclusive rights to use the Vantablack pigment in a work of art.
METALLIC GLASS: Panerai Luminor Submersible 1950 BMG-Tech 3 Days Automatic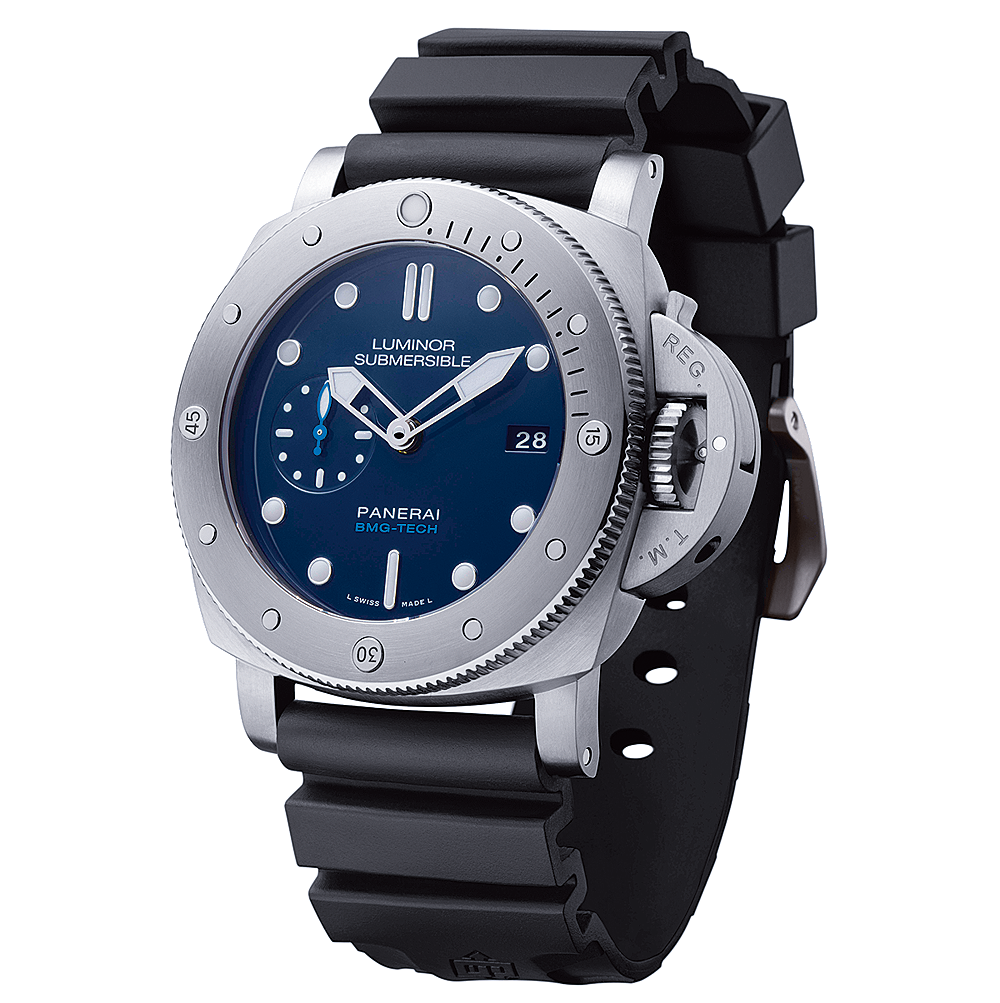 It almost looks like titanium, and the resemblance is intentional, but "BMG-Tech" isn't a metal. Instead, it's called "metallic glass." BMG stands for "bulk metallic glass," a composite of copper, aluminum, titanium, nickel and zirconium. The alloy is fabricated using high-pressure injection at high temperatures,followed by extremely rapid cooling, which doesn't give the atoms enough time to distribute themselves regularly. The resulting amorphous structure gives BMG-Tech extreme hardness, shock resistance and corrosion resistance, while simultaneously making it impervious to magnetic fields. Panerai also states that the material is highly resistant to wear. In addition, BMG-Tech makes this 47-mm divers' watch comparatively light in weight and, therefore, comfortable on the wrist.
GRAPHENE: Richard Mille RM 50-03 Tourbillon Split Seconds Chronograph Ultralight McLaren F1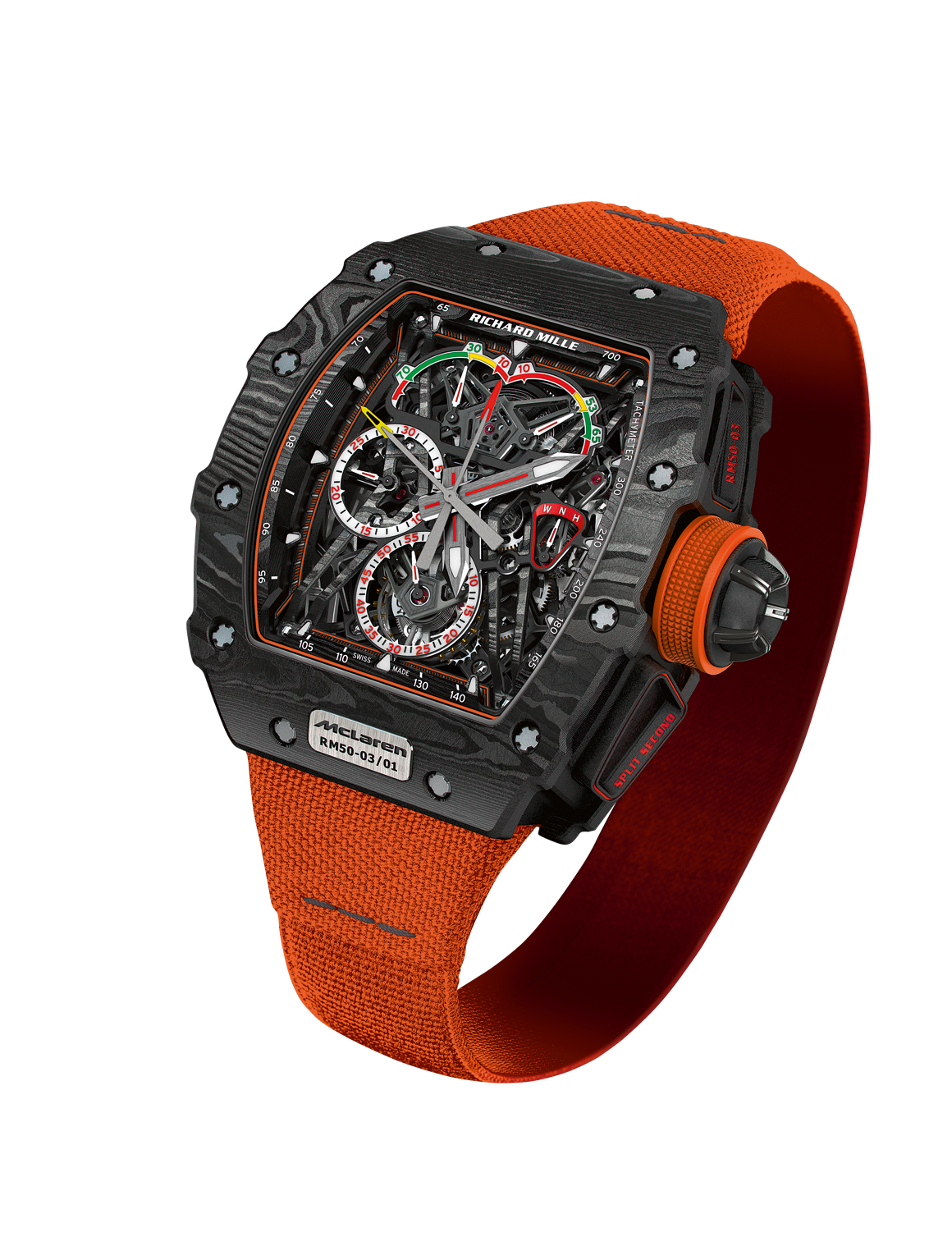 Richard Mille premiered the RM50- 03 as the lightest mechanical chronograph of all time. Together with its strap, this lightweight model weighs just 40 grams. To set this record, Richard Mille uses carbon and titanium to craft the movement,which weighs only seven grams. The case consists of carbon and a relatively little-known material called"graphene."A modified form of carbon, graphene is six times lighter in weight and 200 times more stable than steel. It's included in the artificial resin that permeates the carbon. The carbon, in turn, is built from 600 layers of fibers arranged parallel to one another. None of these fibers is thicker than 30 micrometers. When the individual strata are arranged at a 45-degree angle atop one another, they create this substance's characteristic marbling. This combination of materials makes the case very resistant and light in weight. Richard Mille also integrates graphene into the rubber strap to make it elastic and prevent wear.
CERAMICISED ALUMINUM Zenith Chronomaster El Primero Range Rover Velar Special Edition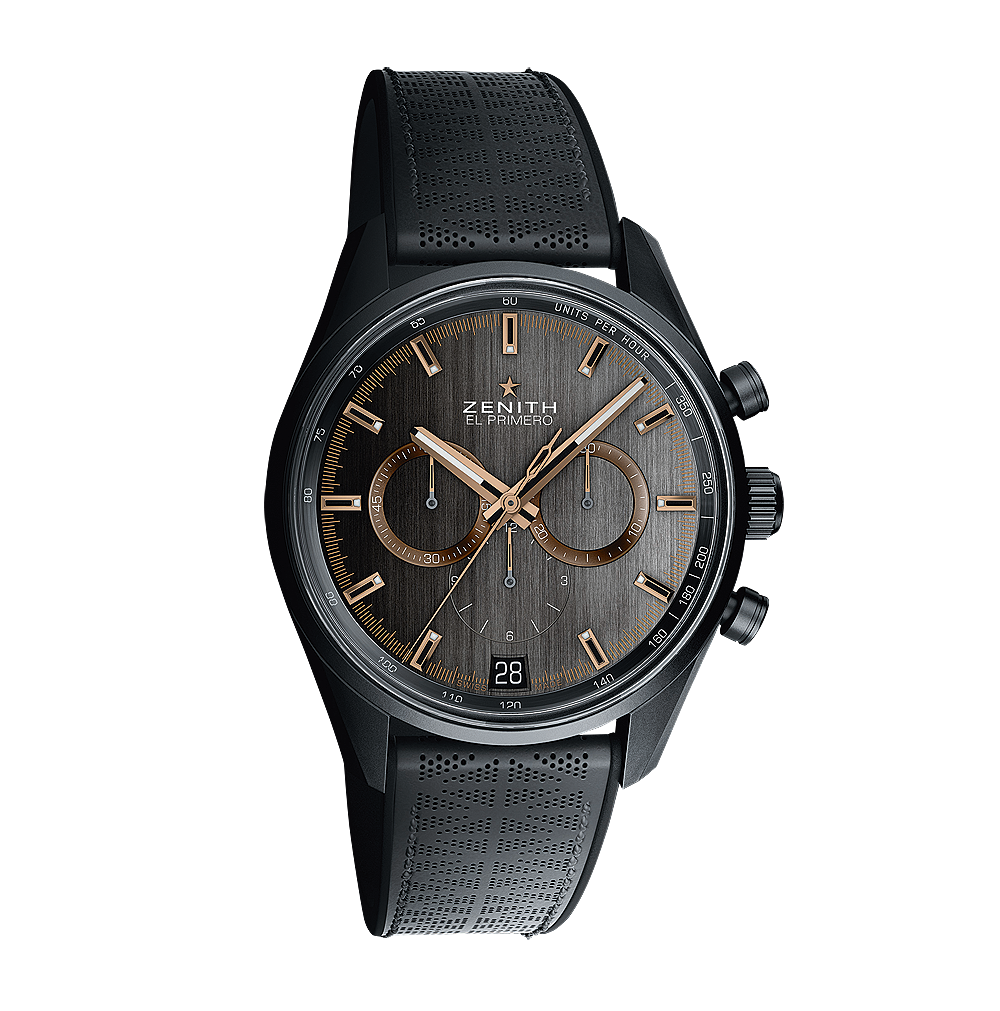 Black cases give watches a sporty- technical look. That's why they're so popular. In most instances, these watches have stainless-steel cases that are PVD coated, although some black watches are made from black ceramic. Zenith takes a different tack. The 42-mm case of this Chronomaster,which was created in cooperation with RangeRover, is manufactured from aluminum. "Plasma electrolytic oxidation" transforms the surface of the metal into ceramic oxide,which is highly resistant to scratches and corrosion. This treatment initially gives the case a beige color; it changes to black when the surface is sandblasted. Zenith describes the final product as ceramicised aluminum.
COBALT CHROME: RogerDubuis Quatuor Excalibur Cobalt MicroMelt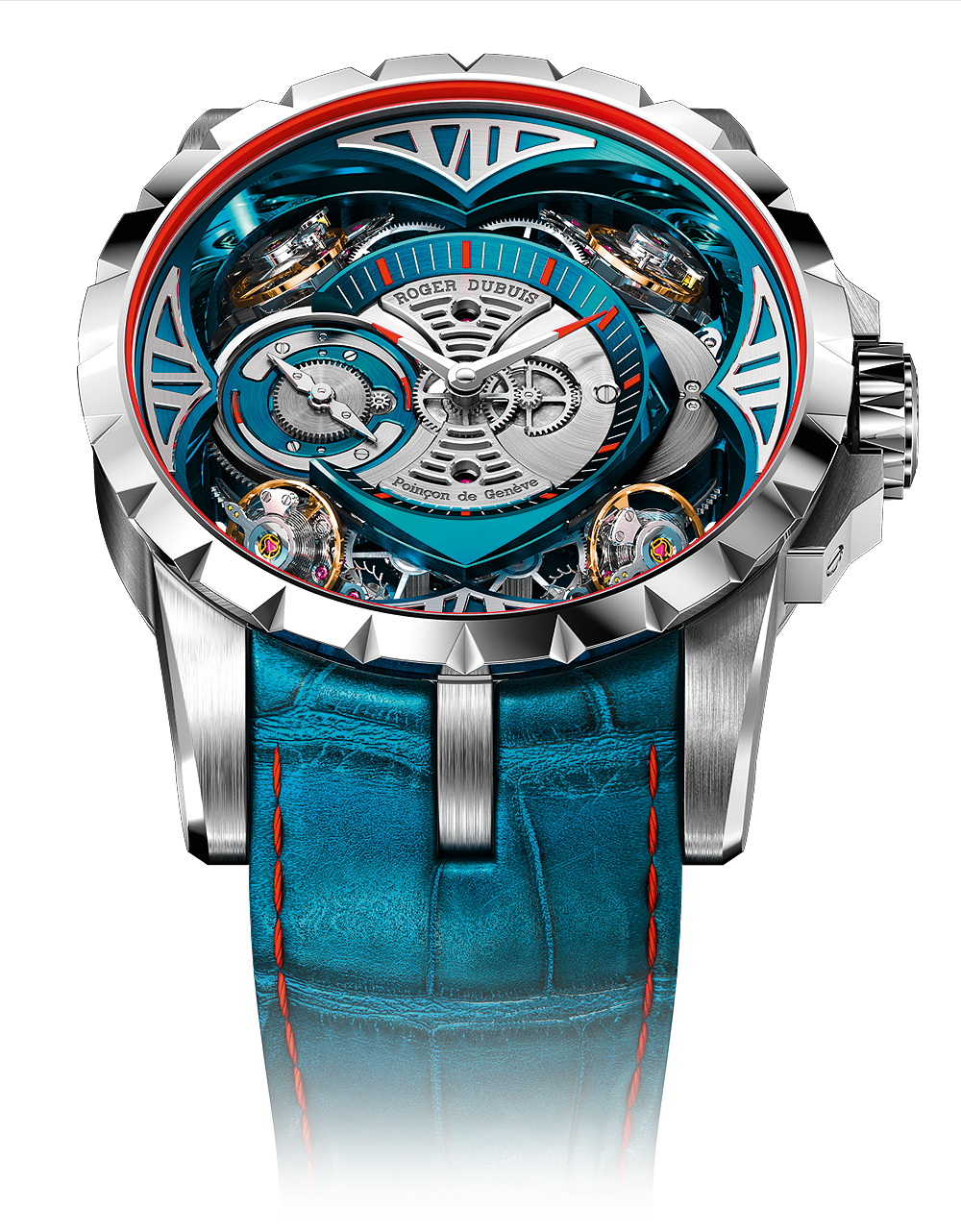 Cobalt-chromium alloys are often used for making dentures because these alloys are very hard, elastic and completely corrosion-free. A steel gray color is also a characteristic. Roger Dubuis uses this material for the 48-mm case of this Excalibur, which is limited to eight pieces. The addition of "MicroMelt" in this model's name refers to the manufacturing process that was used to shape the case. The MicroMelt process is mainly used in aviation and astronomy. The alloy undergoes melting and pulverization. The resulting powder is then mixed and sieved to a defined diameter, poured into a canister, pressed, and then heat-formed into bars from which the final size is obtained. Unlike other manufacturing processes, this method can combine metals with nonmetals, which means the alloys have a higher porosity and stability.